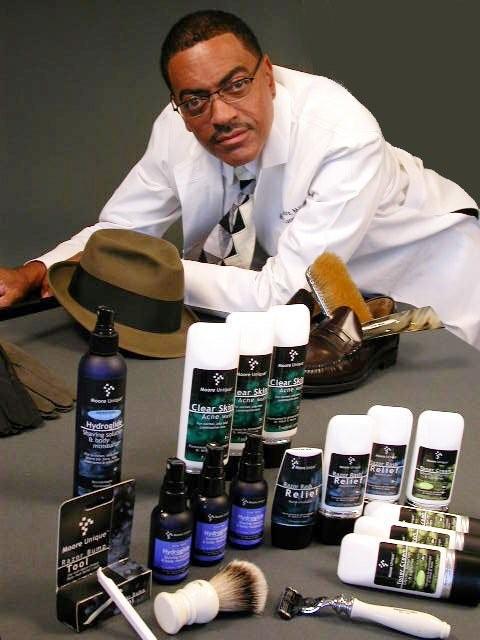 The Moore Unique Skin Care Story
Moore Unique Skin Care was created from scratch when Dr. Moore, the founder, simply couldn't find a shave cream that performed to his higher-than-average standards. Motivated by the challenge, he set out on a mission to create the best performing shaving cream in the business. Leveraging a background as a pharmacist and his skills as a highly-successful inventor, Dr. Moore spent many months devoted to research & development before arriving at what he felt was the magic formula. With shave cream in hand, he proudly shared his new creation with friends and family and it was immediately met with high praise. How could this shave cream work so well and be so impossibly slick? Today, the brand is available in Walgreens, WalMart.com, and Target.com and has expanded into a full range of men's and women's premium grooming products, each crafted with the same high-standards that started it all..

Dr. Milton D. Moore has been working with patients to provide the best dermatological care throughout Greater Houston and surrounding areas. In 1985, Dr. Moore opened Unique Dermatology with the goal of helping each patient maintain healthy and beautiful skin. He received his pharmacy degree from Xavier University and his medical degree from Meharry Medical College. He subsequently obtain a Dermatology Certification from Howard University Hospital. Dr. Moore has developed and marketed a full-line of 12 skin care products under Moore Unique Skin Care®. He developed and patented the world's first 9-blade razor. Dr. Moore has also invented and received six (6) U.S. patents for various products such as The Moore Unique Ultimate Shave System for treatment of Pseudofolliculitis Barbae (PFB) or "razor bumps"..

Dr. Moore is a member of the American Academy of Dermatology, American Medical Association, American Society of Dermatologic Surgery and National Medical Association. He is a member of the Who's Who of American Inventors, and received a 'Top Doctors in America' award. Acknowledged by his peers for his expertise, Dr. Moore has published many papers, lectured to audiences all over the world and is always available to answer questions from patients and colleagues. He has appeared on National TV and Radio to provide his expertise in diagnosis and treatment of skin disorders. Dr. Moore is also available as a Concierge Dermatologist providing personalized medical and dermatological care 24/7 to accommodate your busy schedule.